Ice Cavern
An amazing interactive ice sculpture experience for the whole family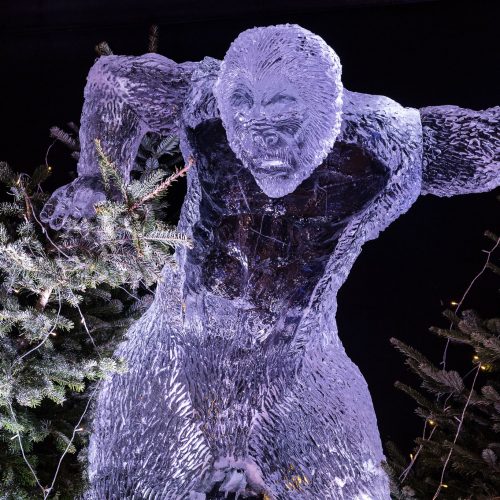 An arctic landscape of frozen beasts and Christmas delights
Join our arctic explorer on his voyage to Santa's workshop. Meet frozen creatures sculpted from over 250 tonnes of crystal clear ice.
An artic landscape of frozen beasts and Christmas delights await you in The Ice Cavern, travel through the North Pole and arrive in the toy workshop as Santa's elves get ready for the big day.
Discover polar bears, huskies and perhaps you'll be lucky enough to make a sighting of the mysterious yeti made entirely of ice.
Travel deeper and the cogs and pistons are working at full capacity in the toy factory; our frozen mechanical elves are manning the production line and awaiting your visit! Santa's workshop is the last stop on our icy adventure and you can expect to see Manchester's very own Santa and your favourite arctic animals – there is simply nothing like the excitement of the Ice Cavern.
The fun doesn't stop there – end your journey in the Ice Cavern Bar where you can indulge yourself and buy a festive cocktail or hot chocolate to warm yourself up.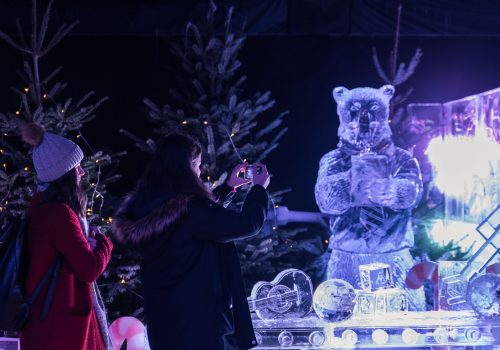 See the sculptures up close
The Ice Cavern is an interactive experience – you can touch the ice, sit in Santa's ice armchair, take a selfie 'trapped' in an ice block and have a drink at Santa's very own Ice Bar.
Can you spot the hidden references to Manchester's history and culture? Perfect for school children, students and adults alike, the Ice Cavern is full of hidden figures and images that will take you on a journey back in time to Manchester's exciting past.
Tickets are on sale now!